Here's the thing. More than 20% of online shoppers will not buy from you if you have a bad website design. In fact, it is one of the reasons why shoppers abandon their carts. Shoppers have definitely evolved from the old days. Today, they are so accustomed to buying items from big websites like Amazon that they expect a particular website design when they buy something online. It is so crucial that it can drive conversions up leading to more sales and profits. 
But what constitutes a 'well-designed' website? Well, what is beautiful and acceptable today may be different from a year ago. With this, we need a constant review of e-commerce website design. This will help us determine what works and what doesn't. 
Today, you'll learn about the different websites for 2017 (I looked into the BigCommerce Website Awards). Then, I'll take a closer look at each website and show you the parts that worked for them. Then, I'll give you an overview of the entire e-commerce industry for the year along with the strategies that will continue to work in the upcoming year.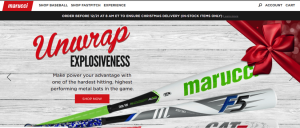 Marucci Sports saw a 50% increase in their sales when they implemented their new online store in BigCommerce. They hired a designer to create a design that is focused on more than just their products. Instead, they focused on their story and their connections.
This shift in perspective was well received in their niche. It showcased their brand and show how they are connected with Baseball players in the Big League. Founded by two big leaguers, the website is now seen as more than an online store for sporting goods. Instead, it is seen as a baby of passionate baseball players in the past. 
Best Food Website Design: Di Bruno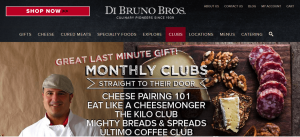 If your website doesn't make your audience's mouth water, then you are doing something wrong with your food website. This is the perspective of Di Bruno when they redesigned their website using BigCommerce. The website does more than showcase their products. Instead, they carefully chose the images so that it looks enticing as well as package them to attract more customers.
Also, the brand understands the audience's concern about taste. With this, they made sure to illustrate the taste of their cheeses in their description box. This did not only describes the cheese but gives the buyer an idea of how it tastes. 
The result of this redesign is an astonishing 34% increase in online sales.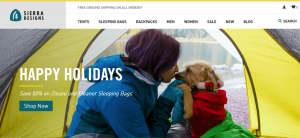 From a website that hardly gets traffic and sales due to their navigation issues comes a website that the people have chosen for its clean aesthetic and amazing user experience. 
Sierra Designs is an example that customers don't really require much from websites. They just want two things: clean design and an easy-to-use website. The word 'easy-to-use' doesn't only apply to navigation but to the entire checkout process as well. By making your website user-friendly, more people will want to buy from you.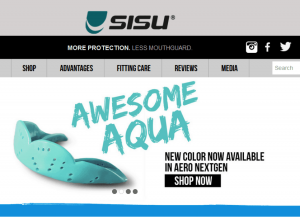 Sisu is a brand that doesn't sell an exciting product. Yet, they are able to create a design that makes it more exciting.
The design may be simple but there is something about the colors used that makes the website look fresh and exciting. The images and movement in their pages also show how much focus was given on visuals for this website.
The website is nothing fancy. It is straight to the point which fits the niche well. It showcases the product and adds extra elements and lettering so that it looks more exciting.
This shows that it is up to you to make your product exciting for your customers. Later, you'll learn more about the value of visuals and why you should focus on improving them on your website.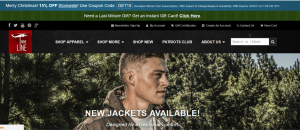 Nine Line is an e-commerce website that understands the constant change in the world of design. With this, they make it a habit to change their website constantly. They focused on mobile because this is where most of their customers come from. In fact, they have what is called a 'mobile-first' type of design.
What makes Nine Line special is its focus on customer feedback. Instead of designing their website out of their own aesthetic, they make sure to consult their customers to find out what they think. From here, they conceptualize the design of their website. It is as if they include their customers in the website design process.
Because of their hard work, their conversion rates are constantly on the rise. They are having a 5% conversion rate with as little as 10,000 daily users. The bounce rate is also decreased by 11%.
Top Ecommerce Design Strategies for 2019
There's a reason why big websites like Facebook constantly update their website design. While their users may whine about the constant change, they still do it. The reason for this   is never stagnant. It changes quite a lot. In fact, brands are recommended to do a redesign in as often as 3 months. The changes don't need to be drastic. But it should still be done. Here are some changes that you can implement in your website in 2018.
1. Have an Amazing Product Page 
Boring product pages are not allowed. A simple product page that has the picture and description is no longer as enticing. Instead, sellers are now employing some strategies that make their online shop stand out from the crowd. 
Ecommerce website owners are now going out of their way to create product pages that have big or realistic pictures that make the shopper feel that the product is right in front of them. This creates the illusion that the product is right there. It shows more than just a simple picture of the product but showcases the product in different perspectives.
Aside from this, user reviews are highly encouraged as well. This demonstrates the product as it is being used by real users. This can be done on the product page or it can include reviews from social media websites like Instagram, Twitter or Facebook. 
Product videos are also quite common. Some customers prefer to see the product on video before buying. This can come in the form of a review or an online commercial. 
This along with product cross-sells right from the product page is the key to the success of Ecommerce in 2019.  
2. Focus on Visuals
While a graphics-heavy website may take a while to load, customers don't seem to mind. With the popularity of streaming and videos on social media websites like Facebook and Twitter, visuals are no longer considered as an icing on the cake. Instead, they are expected.
As I have mentioned earlier, people leave their shopping carts if they don't like a website's design. The design speaks not just for the brand but also for its professionalism. If a website is poorly designed, it shows that the seller is not really making enough money to update his website. This leads customers to look elsewhere. After all, no one wants to give money to a website that is poorly created. It makes the customer feel that he is just going to be scammed.
So focus on visuals. This includes not just the graphic elements of your website but also the interactive elements like GIFs and videos. Make your website interesting to the eyes of your customers. This will not only encourage them to buy but will also slightly increase the credibility of your website in their eyes. 
3. Uniqueness is Key
What happens when you only do what other e-commerce sellers are doing? You get the same results.
The problem with most online sellers is that they don't strive to stand out. With all of the e-commerce applications available, they think that they can set up an online store by just setting up the e-commerce application and uploading their products. But just doing the same thing as the next person is never a wise move. By doing this, you create a clone of another online store and nothing more.
The key to being successful in 2018 is all about uniqueness. It is about standing out but doing so for a good reason. You'll want your online store to be known for the amazing value that it provides. You want to be known for more than what you can do. You need to stand out by doing something that is only unique to you. That's how you succeed in the upcoming year. 
4. Showcase your Brand's Story
Marucci showed a massive increase in sales by shifting their audience focus from their products to their stories. Nowadays, people don't want to just buy from a store. They want to buy from an identity. They want a brand that stands for something and they want to know that they are supporting a cause for their purchase. This alone can lead customers to buy from you instead of the next man and it can have a massive effect on your traffic and sales. 
5. Never Ignore Connections
Any form of connection is important for a business. In fact, it is the factor that separates successful business owners from unsuccessful ones. 
New business owners often think that they can enter the online world alone. They believe that they have an amazing product or service and that they can make more sales as long as they do their marketing right. For them, marketing is like a formula where X + Y = Z. So if you do marketing method 1 + marketing method 2, it will yield the result that they wanted. But any experienced business owner knows how far this is from the truth. Results don't come from methods, it comes from experience. It comes from the constant tweaking of a website until it yields your desired results. And connections can speed up this process.
For 2018, the best marketing method is done through connections. This can be done through the connection of an old customer to a new customer or it can be done by connecting with people in the same industry. It is started in conferences and events and it grows as more people know about your brand. Word-of-mouth is truly the best way to get more people to an online store. 
6. Optimize for Mobile
Over 80% of online users use mobile gadgets such as their smartphones or tablets to access the Internet. This means that your website has to be more than responsive. This means that every aspect of your checkout process should also be optimized for mobile gadgets. 
For some brands, they do this by having an app. However, this doesn't mean that you should forget about your website. It is very important to ensure that your online store will work seamlessly in mobile gadgets as this is where the market is.  
7. Keep up with Latest Trends
Elon Musk is the father of technology forecasting. He understands that technology is never stagnant and is ever-changing. What's surprising is that the pace of the changes increases as time passes by. This means that 2018 will not be a stagnant year.
With this, it is important to keep yourself updated with the latest trends. Aside from doing the tips in this article, you should also look at trends like augmented reality. You should look into these and look at some ways on how you can apply it to your website. Don't be afraid to try new technology as this may be the key to tomorrow's success.
Are you ready for 2020?
2020 will be a year of changes but it will also offer a ton of opportunities for online success. We have reached the point where the online world is one big connected community. You now have access to more than just the people in your location. You now have access to the entire world. From here, it is up to you on how you'll utilize this opportunity to build your brand and sell your products. You now have this platform. Use it and drive your online store to success, read what we have about the best facebook marketing courses too.